Meet more clients in your local market
Find available locations and start capturing leads
Call to reserve locations
Mon-Fri 9am-7.30pm EST Sat 11am-3pm EST
Why you'll love Trulia Local Ads
Reach local buyers
and sellers
Meet serious buyers and sellers in your key markets by connecting with them on Trulia's most popular pages.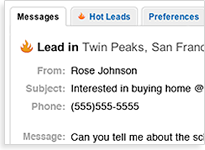 Receive quality leads
Generate leads from transaction-ready buyers in your local area.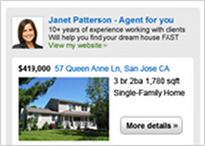 Build your brand online
Gain added exposure and win more clients using a custom ad that prominently displays your photo and contact info.*
* Subject to inventory availability
What agents are saying
Local Ads provide me with a visible presence in my market and has helped me close transactions with new clients. I plan on locking up my ads for the entire year.

My business has tripled with Local Ads and I have received calls from many well qualified buyer leads. I stopped advertising elswhere. Put your money where you get results.

Trulia Local Ads help me capture great leads to build solid relationships with my clients in real estate transactions.

Reserve your ZIP codes now
Mon-Fri 9am-7.30pm EST Sat 11am-3pm EST